Back in the summer of '69, George Harrison and the Hare Krishna devotees set music charts ablaze with the Hare Krishna Mantra Album. They were literally Top of the Pops, acquainting thousands with the spiritual sound vibration. Richard Stuart Naismith recalled his familiarity with the mantra as he heard ISKCON's Founder Acarya, His Divine Grace A.C Bhaktivedanta Swami Prabhupada chanting on the Auckland University Campus Grounds. This was Richard's first profound encounter with his future spiritual master. His Divine Grace Srila Prabhupada sat on a slightly raised dais, singing the maha-mantra, which impressed upon Richard a lasting impression of grandeur and majesty. While attentively listening, Richard was struck by His Divine Grace Shrila Prabhupada's God-centered presentation of philosophy rather than sentimental religion.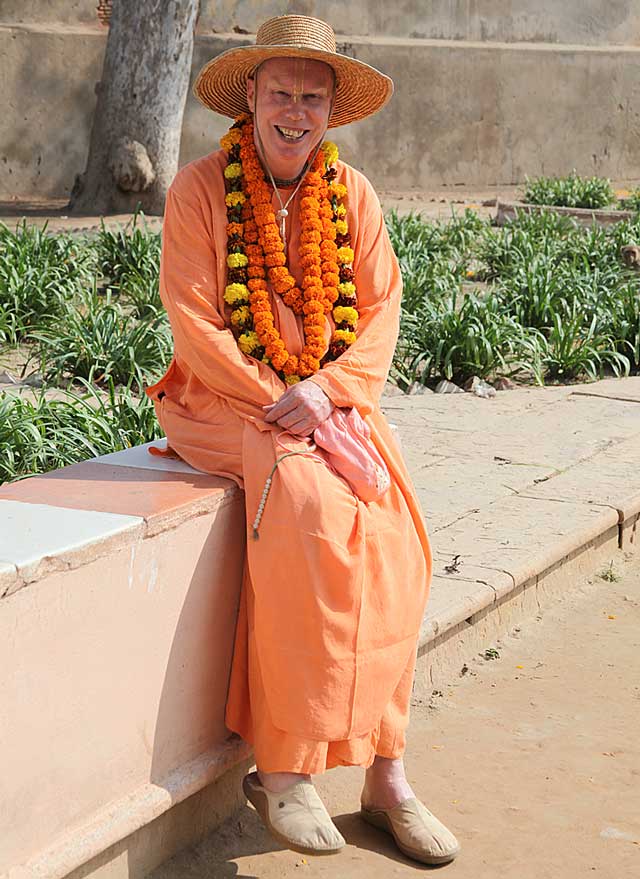 From youth, Richard's interests formed around his keen study of English, resulting in a career path in journalism, but owing to his search for truth, he also explored the realm of philosophy. This search sparked a strong impetus to travel within him, motivating a venture around London town in 1972. His first philosophical interaction with Hare Krishna devotees occurred shortly afterwards. He visited the Temple, where he conversed with several devotees, including the then Temple President, Dhananjaya dasa. Richard subsequently moved into the Radha Krishna Temple in Bury Place on Sunday, 7th January 1973, receiving initiation from His Divine Grace Srila Prabhupada in September of the same year. Richard had now become Raghubir dasa, serving as the temple commander of the Bury Place Temple. In 1974 he moved to London's Bhaktivedanta Manor to, among many other engagements, serve as treasurer, book distributer, and BBT (Bhaktivedanta Book Trust) assistant.
In 1980 Raghubir dasa traveled to Southern Africa to assist in the mission of establishing a society of devotees there. However, South Africa's political situation under the apartheid regime in the '80s was volatile and unrelenting, geared towards separating citizens on a racial basis. Ragubhir dasa and the few other foreign devotees would often face trial and tribulation for mixing with the local South Africans of various colors and creeds, as this was in direct contravention of the notorious regime's statutes and ethos.
In the face of seeming adversity, the Hare Krishna movement prospered, due to its focus on the spirit soul rather than the material body. Raghubir dasa and the other devotees performed their missionary endeavors in the light of such philosophy, and Raghubir dasa regularly enunciated such teachings and encouraged similar preaching efforts during his time as temple president of the Cato Ridge project (1980-82).
In 1985 a grand opening of the Shri Shri Radha-Radhanatha Temple of Understanding in Durban, South Africa made local and international headlines. The temple's Vedic architecture, combined with its ultra-modern exterior, produced a marvelous landmark, which Raghubir dasa and his associates endeavored so selflessly to establish.
He has since been based in Durban, South Africa for more than thirty years, serving the community in various ways. He is the GBC (Governing Body Commisioner) of South Africa and serves in the Bhaktivedanta College of Education and Culture as the chairman on the board of examiners. He has been closely associated with the educational programs of ISKCON and has taught courses at the Vaishnava Institute for Higher Education in Vrindavana for ten years.
In 1994, during the Gaura-Purnima Festival, Raghubir dasa was awarded the renounced order receiving the name His Holiness Bhakti Caitanya (pronounced Chaitanya) Swami. Bhakti Caitanya Swami travels globally, preaching Krishna Conscious philosophy while remaining a stalwart spiritual leader for ISKCON South Africa.
Bhakti Caitanya Swami joined the Governing Body Commission in 1998, and his assignments have included overseeing the spiritual well-being of Angola, Lesotho, Malawi, Mozambique, Namibia, Swaziland, Zambia, Zimbabwe, and Estonia. Furthermore, he acts as co-GBC for Mauritius, Northwest Russia, Eastern Siberia, Western Siberia, Latvia, South Africa, and Lithuania. Maharaja has also served as chairman of the GBC from 2003 to early 2004 and as vice-chairman from 2001 to early 2003, and then again from 2010 to early 2012. He was elected GBC chairman once more in 2012.
In addition to his extensive responsibilities, Bhakti Caitanya Swami regularly expresses his natural flair for narrating the pastimes of the Lord with an intricate balance of expertise and bhakti-rasa (devotional taste). One is immediately transported to the spiritually surcharged atmosphere of these holy places and festivals through attentively hearing his narrations. These expressions have also taken the shape of video productions and books. His latest offerings have taken the shape of books entitled Vrindavana, The Playground of God and Govardhan, The Hill that Fulfills all Desires.
Bhakti Caitanya Swami continues to offer these missionary activities in the mood of service and loving homage unto his revered spiritual master and ISKCON's Founder Acarya, His Divine Grace A.C Bhaktivedanta Swami Prabhupada, who instilled the gift of Krishna consciousness within his heart.